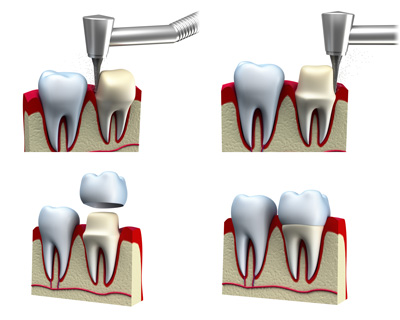 Have you ever been eating something and suddenly felt as if you've bitten down on a stone – only to discover that part of your tooth has broken off?
As we age, root canals, large fillings, extensive decay, and chipped or cracked enamel can weaken the structure of our teeth – making them more susceptible to breaking. When the surface of the tooth is compromised, but the root system is still intact, a crown can be made to strengthen the tooth and make it more durable; and thus prevent any further breakage of the tooth.
---
Dynamic Dental – SE Calgary
Crown & Bridge Treatment
403-453-5588
A full-service family oriented SE Calgary dental clinic
#210, 163 Quarry Park Blvd. SE
---
Being fitted for a crown usually takes two visits. On the first visit, the surface of the tooth is shaved down so the crown will fit over top. A filling may also be needed to bolster the original structure. A bite impression is then taken and sent to the manufacturing lab, and the patient is fitted with a temporary acrylic crown. This will be removed about two weeks later, when the crown is cemented into place.
At Dynamic Dental, we strive to give our patients as many options as possible. We offer porcelain crowns, porcelain crowns with a metal base, and gold crowns. Each has their pros and cons and one may be more appropriate to your specific situation. Dr. Vranjes can show you examples of the different crowns and discuss their benefits with regards to your oral health.
Click here to learn more about crowns.
The use of a bridge is another option to replace a missing tooth or teeth. It involves preparing the teeth on either side of the missing tooth/teeth for crowns, and the bridge extends from one end to the other. It can be a great way to replace missing teeth, but does make flossing a little more complicated. Dr. Vranjes can explain in greater detail the various treatment options available to you for missing teeth such as bridges or dental implants.
---
Dynamic Dental – SE Calgary
Crown & Bridge Services
403-453-5588
A full-service family oriented SE Calgary dental clinic
#210, 163 Quarry Park Blvd. SE
---